AirPods Pro Payment Plan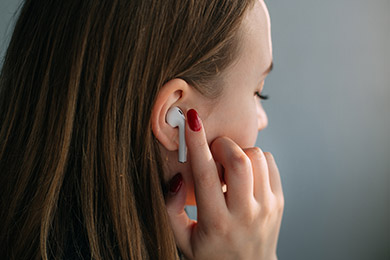 Looking for a new pair of headphones? You'll love the wireless AirPods Pro, especially when you're picking it up today but paying later on monthly payments with RTBShopper. Pay weekly or monthly payments until you own it.
These headphones are sleek and compact with advanced Siri integration and boast a five hour listening time, so your favorite songs will be there at every turn!
The new Apple AirPods feature active noise cancellation, or transparency mode so you can hear what's happening around you. This is great for when we're in a quiet environment and want to focus on other things like work or personal audio books that are playing nearby without having any interruptions from outside sounds!
The Apple-designed H1 chip delivers incredibly low audio latency. This means you can be sure that your mixes are being played back with perfect accuracy, even if they're coming from an external device such as a DJ controller or sampler keyboard!
Plus, you can explore the future wherever you go with wireless access to your favorite podcasts and radio stations for hours of entertainment. Apple's AirPods are sleek and compact, and pair well with your new Apple Watch too or anything else you want from the Apple Store!
So what are you waiting for? Buy them now on a payment plan here at RTBShopper.com and you might be approved for up to $5000 in leasing. You can pay weekly or monthly payments until you own it. Rent to own credit approval only takes a few minutes!
Buy now and pay later with easy monthly payments, even if you have a bad credit score. It only takes a few minutes to apply and it's completely online and doesn't affect your credit report. The monthly installments come out of your checking account on the same dates you get paid!
Start listening to podcasts, your favorite songs, and radio stations for hours on end between recharges! With a five hour listening time, your favorite songs will be there at every turn!
Purchase today on our website or call us at 855-785-6501. We're here to help answer any questions about our products or services so don't hesitate to reach out if we can do anything for you!
Finance AirPods Pro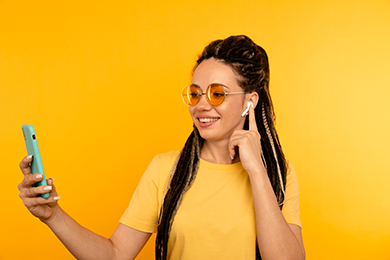 If you are a runner, a gym enthusiast, or simply love to listen to music or podcasts, the Apple AirPods Pro are the way to go! You can set them to completely cancel out the noise so you can get lost in your music or you can set them to transparency mode so you can listen to music but still hear what is happening around you no matter which wireless service you use. The sleek and small design allows you to use them wherever you go without having to deal with bulky headphones or annoying cords.
If you are wanting the Apple AirPods Pro but can't afford to pay for them up front, RTBShopper has you covered! Our rent to own electronics program makes it easier than ever before to get the electronics you want and need now without having to pay. Simply add them to your cart, find out if you are approved to finance, then set your payment plan on your own terms!
You will find out within minutes if you are approved and can get your Apple AirPods that same day!
AirPods Pro Monthly Payment
Sound too good to be true? It's not! RTBShopper is the leading rent to own electronics company online and we offer safe and flexible financing, even if your credit history isn't up to par. We make it easy for everyone to get the electronics they want and need to make their lives more enjoyable.
How does it work?
Our rent to own electronics program is easy breezy! All you do is add what you want to your cart, hit "continue" to fill out the application, find out in minutes if you are approved and voila! That's it. You pay a one-time $50 application fee and then set up future payments that work with your budget and pay period. Any applicable sales tax is included in your lease payments.
What do you need to apply?
We make the application process simple. If you are ready to apply for the Apple AirPods Pro Payment Plan, you will need the following:
You must be 18 years or older to apply.
You must have a valid social security number.
You must have a valid government issued ID such as a driver's license, state ID or passport.
You must have a valid credit or debit card
That's it! Even if you have bad or no credit, we got you! We understand that life happens and sometimes we are unable to meet our financial obligations. We created this rent to own program so everyone can enjoy the electronics they need without having to stretch their finances and stress about the money.
*Battery life depends on device settings, environment, usage, and many other factors. 7. Testing conducted by Apple in October 2019 using preproduction AirPods Pro with Wireless Charging Case and software paired with iPhone 11 Pro Max units and prerelease software. Volume was set to 50% and Active Noise Cancellation was enabled.